Massage therapy is one of the oldest methods of healing, as the practice of therapeutic massage can be traced back nearly 4,000 years. Statistics from both Health Canada 1 and the American Massage Therapy Association 2 show that millions of North Americans use it today.
Massage therapy refers to a comprehensive health management strategy focusing on the application of various techniques to positively affect the soft tissues and joints of the body. Massage techniques most commonly include pressure and compression, kneading, frictioning, and mobilizing to improve the health and condition of the muscles, tendons, skin, fascia or connective tissue of the body.
Today massage is thought of as a holistic therapy that complements medical treatment. The "Physician's Guide to Therapeutic Massage" shows that massage can decrease pain, improve range of motion, improve mood, aid in the circulation of blood and lymph flow, reduce muscle and joint soreness, and improve sleep.
1 Health Canada (2003)Health Policy Research Bulletin. Retrieved May 10, 2005, from http://www.hc-sc.gc.ca/iacb-dgiac/arad-draa/english/rmdd/bulletin/mainstream.html#page6
2 American Massage Therapy Association. (2001). Massage Therapy Consumer Fact Sheet
Answering your questions on massage therapy
If you are new to massage therapy, we understand that you might have some questions. We are confident that we have the answers to your inquiries.
Below are the answers to the questions that are most commonly asked about massage therapy treatment. Should you have additional questions please feel free to contact us.
Question: How will massage therapy benefit me?
Answer: With professional massage therapy you can experience relief from muscular tension and pain, receive increased range of motion and a reduction of mental stress levels. Massage is a natural healing process that can deliver both physical and emotional benefits.
Treatments are specifically tailored to meet your needs.
Question: How often will I need treatments?
Answer: Your body can let you know. Some people require only a few sessions to treat a specific problem, while others become regular users of massage therapy as both proactive and preventative healthcare. Massage can help maintain good muscle tone, flexibility, and help correct muscular injuries.
Question: How old does a person need to be to receive massage therapy?
Answer: Any age. Massage therapy treatments are effective from birth until palliative care stages.
Question: Which regions of my body get massaged?
Answer: The therapist will ask you what you want to get out of the session. You will also be asked to describe any chronic problems that you are experiencing. This will determine the appropriate regions of your body that need attention. A typical full-body massage involves your back, neck, shoulders, arms, legs, feet, and hands.
Question: Will I experience muscle soreness following a massage therapy treatment?
Answer: Most people report feel very relaxed, and often experience significant relief from aches, pains and stress after a massage session. However some people, especially those who require deep-tissue massage, experience mild muscle soreness which may last a day or two. Once the soreness is gone, they often notice heightened energy levels and an increased range of motion.
Question: I'm not sure I'm comfortable with a stranger touching me.
Answer: It is not uncommon for first-time clients to be apprehensive with the personal nature of massage therapy. Most clients lose this apprehension within the first few minutes of treatment. Massage therapists are trained professionals who respect your feelings and go out of their way to allow you to feel comfortable.
Question: Do I have to take off all of my clothes?
Answer: One of the keys to the success of a your massage therapy session is your ability to relax and feel comfortable. Therefore, the decision is yours; remove only the articles of clothing that you are comfortable with removing. Traditional full-body massage treatments work best administered directly, without the barrier of clothing on the areas massaged. During a session you will be fully covered with a table sheet/blanket, only the area of your body that is being worked on is uncovered.  Before and after the session, you will undress and dress in complete privacy.
Question: Will my extended healthcare plan cover the costs of massage therapy treatments?
Answer: Yes. Most extended healthcare plans include massage therapy and some even have on-line billing. Some plans ask you to first receive a physician's referral. Feel free to contact us and we will be happy to help you determine your plan's coverage.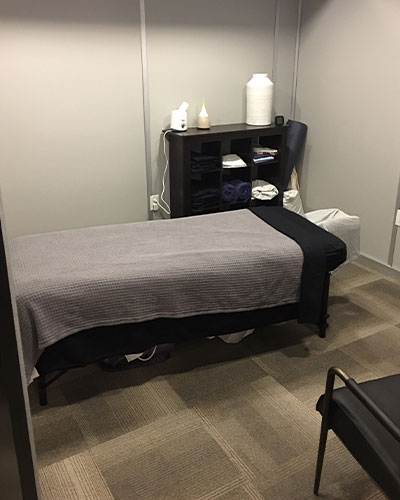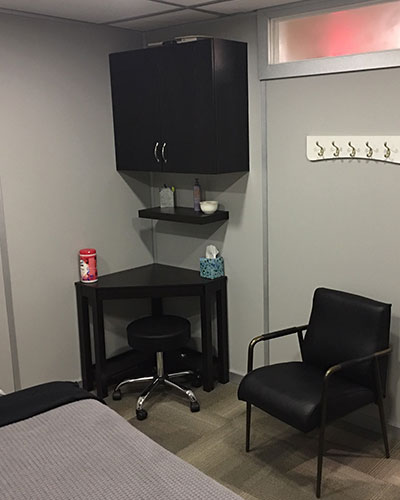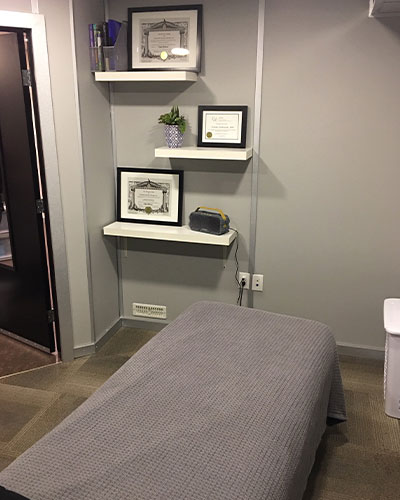 Massage is beneficial for people of all ages
Through the Life Span
The Touch Research Institute, University of Miami, has completed many research studies on massage therapy. These researchers have found evidence that massage has significant benefit for babies, children, adults, and elderly persons. Massage therapy has been shown to enhance growth in premature babies in the hospital, calm aggressive adolescents and help kids with Attention Deficit Disorder. Elderly persons in nursing homes have responded to massage with decreased agitated behaviour.
On the Job
Corporations and other institutions are discovering that massage therapy programs for employees pay off. Job stress has been identified as a serious health care issue that relates to decreased productivity, decrease job satisfaction, increased work related injury, errors and absenteeism. Research reported in the Financial Times 1, and in Massage Therapy: The Evidence for Practice 2 show that massage is a good tool for reducing work stress.
Sport
Athletes, coaches, and professional trainers use massage. Massage therapy is used at sporting event to help athletes performance and to help prevent injury. Massage may improve muscle recovery and decrease muscle soreness after exertion. Athletes also benefit from the therapy's positive effects on heart rate and blood pressure, and the general relaxation response that reduces anxiety and improves mood.3
Pregnancy and Childbirth
Receiving Massage therapy is safe and beneficial during pregnancy. Many women enjoy the skilled care of a massage therapist to help to alleviate back, neck, and shoulder pain associated with changes in the body during pregnancy. The general benefits of increased circulation and enhanced well-being are valuable therapeutic effects. Specially trained massage therapists can even participate during childbirth to help decrease pain and anxiety.
1 – Financial Times (1992)
2 – Rich, G. (Ed.). (2002). Massage Therapy: The Evidence for Practice. Toronto,ON
3 – Sports Medicine, (2005);35(3):235-56
Benefits of Massage Therapy
Therapeutic massage is a safe and effective form of healthcare
Many people benefit from Massage Therapy. Whether you are in search of help in injury recovery and rehabilitation, looking for a healthful way to deal with day-to-day stress or simply interested in maintaining good health, Therapeutic Massage is a safe and effective form of health care.
Provide Relief
Massage Therapy has been shown to provide relief from the following disorders:
Back pain
Headache
Muscle pain
Joint pain
Limited Joint Mobility
Chronic Muscle Fatigue
Improve Recovery Rate
In addition, Massage is frequently recommended to improve the rate of recovery from injury.
Minor Sports Injuries
Recurring Stress or Repetitive Strain Injuries
Whiplash and Whiplash Associated Disorders
Note: More and more Therapeutic Massage is being prescribed by physicians to complement traditional medical treatments for illness, injury and pain relief . Always seek the advice of your physician before starting any new treatments.
After the Massage
What to expect after treatment
It is not uncommon to experience muscle soreness a day or two after your massage treatment. The soreness is a result of direct contact with spasms in the muscle, as well as accumulated waste products in the tissue being naturally released into your system. This is similar to what many people experience after strenuous activity. This too shall pass…
Recommended after treatment care
Drinking plenty of water will help flush the released toxins out of your body, and soaking in a warm bath with Epson or mineral salts will assist in alleviating any soreness.
Your massage experience should be both pleasant and beneficial. We hope it will be the beginning of a life-long practice to help you enjoy the best possible health and wellness.